My parents got married in the 1980s. It was a lavish affair – a church service in St George's, Hanover Square, followed by a reception at Claridge's with all their friends and family. My mother's dress was by David Emanuel: a champagne duchess satin tailoring with a 15-foot train and a long veil of silk tulle. Total perfection. I always knew this was what I wanted – a big white wedding with all the trimmings.
I got engaged in November 2019 – a time when no one had ever said the words self-isolation or Zoom. The first on my planning diary was "when": my grandparents were pushing for a wedding in 2020 – "we'll be dead soon," one said, and as summer was far too imminent , December seemed perfect. I have a fondness for all things Christmas and the vision of my guests draped in furs and diamonds, surrounded by a forest of glittering Christmas trees, was just for the money.
The next step was "where". I have a good experience of wedding venues: in a previous life I played saxophone in a band – the Saloon Stars; these are the best of the best (and of course are reserved to play at my reception). One of the most memorable moments was Dominic West's wedding to Catherine FitzGerald when the groom took the stage and played a duet with me on his clarinet. It was while playing with the Saloon Stars that I discovered that while the marquees are idyllic – think Arthur Guinness and Hannah Weiland's bohemian wedding in Wiltshire – the whimsical romance can somewhat crumble in a violent storm. , and therefore a wedding in December at home was ruled out.
We quickly settled on Cowdray House, the magnificent stately West Sussex property owned by Viscount Cowdray. While the lavish interiors were alluring, it was the wheelchair accessibility – for my father – and the late liquor license – for my outcast friends – that convinced me.
Within months, however, Covid swept the world and the UK was on lockdown. In the spring, the holidays were out of the question; but it was still unthinkable that the Covid restrictions would impact our December wedding and in that vein my fiance Will Vanderspar and I continued to plan.
In September 2020, the second wave seemed imminent and our extravaganza of 130 people was almost certainly out of place. At this point, I still didn't have a dress because the stores were closed. In the summer, my mom, sister and I booked flights to Athens to meet glamorous Greek dressmaker Celia Kritharioti – but the flights were canceled.
We talked about the possibility of a micro-wedding – the old Chelsea Town Hall was the place to be in 2020, and while Irene Forte's low-key nuptials were quite chic, I was concerned that the ostentatious dress and the abundance of glittery jewelry that I was considering wearing look a little silly on King's Road. And so Willy and I stoically stuck to our original plan and postponed the wedding until December 2021.
A year and a half after our engagement, after seeing countless friends cancel, postpone or downsize their weddings, we get down to planning again.
This time, we are consulting the experts. Who better to seek advice than Tom Freud, the founder of Atom Events, the ultra-high-end event planner who was responsible for Claudia Schiffer's 2002 wedding to film producer Matthew Vaughn. Tom is reassuringly optimistic for December. Typically, his advice is to allow a three-month buffer after a country's expected lockdown end date. "We will not be doing any events in the first three months to allow the drift," he explains. It is less positive on destination weddings. As long as a country can spontaneously close its borders or introduce sweeping curfews or quarantine laws without warning, its view is that a marriage abroad is extremely risky.
I also call Johnny Roxburgh. The royal events guru now recommends Scotland to English clients looking to host the kind of experiential destination wedding he is the master of. "Take helicopters and go somewhere like Islay," he suggests. "On Islay there is golf and whiskey tastings, and Gordon Campbell Gray has a fantastic hotel with a wonderful spa. You can spend a night there, then be driven by handsome, kilted Land Rover drivers to The Fife Arms in Braemar, where you can have a cèilidh and pre-wedding dinner. I can imagine a fall night, with everyone dancing around a roaring fire and eating lobster.
Another little gem of advice Johnny gave me was to put a little bag of silk candy (non-sticky and no wrapping) under the pew of every bridesmaid and page boy in the church in the hope that they will remain seated quietly and perfectly still throughout the service.
During the pandemic, the Maldives was the hot ticket for the wealthy hungry for a "normal" life without a mask. Customers are greeted at the jetty with full PPE and taken directly to their villa where they undergo a Covid test. Upon receipt of a negative result, the mask will come off and you are free to go on vacation without distancing restrictions. I talk to Emma Gold, founder of GSP Events, to see if this concept might work for a wedding day scenario. Emma suggests creating a luxurious Covid test area for guests upon arrival. "Give them a quick lateral flow test, give them some entertainment and a glass of champagne, and if they're clear, they head over to." It was an option Kim Kardashian West took for her controversial 40th birthday party in Polynesia.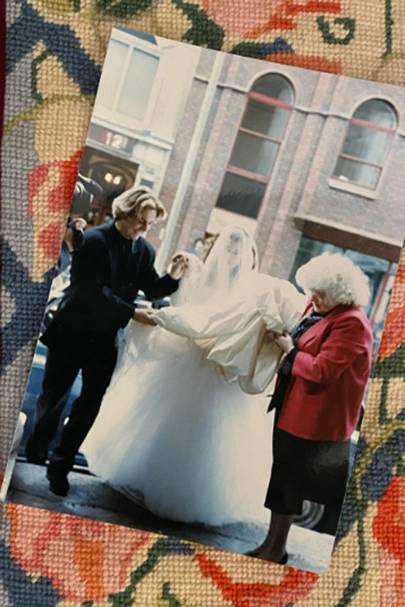 Alternatively, I could arrange for tests to be delivered to everyone the week before the wedding, or even send someone to administer the tests. At the last event Tom hosted, that's exactly what they did. The event was scheduled to start at 7 p.m. and at 3 p.m. Tom dispatched an army of agents to the homes of each guest, staff member and artist to perform a Covid test. On June 21, the need for extreme measures may be a thing of the past, but in these uncertain times, these are truly the conversations my family has. At this time, the government has given no indication as to when masks will cease to be mandatory. And so at the very least, to avoid the horror of having disposable blue masks littering our precious wedding photos, I'm tempted to offer guests a chic alternative. London-based design firm Contrado can handcraft completely bespoke options.
Finally, the question of finances. Like most couples, Willy and I are on a budget and therefore simply cannot afford to lose big chunks of it due to sudden changes in Covid protocol or supplier bankruptcy (unfortunately, which many of my friends have lived last year). Under normal circumstances, I would end our budget with a solid marriage insurance policy, but most brokers will no longer insure weddings. John Lewis Finance, for example, has generally been a trusted safety net for engaged couples, but as of March 2020, it has stopped selling new policies and has "no plans to restart" their offering. insurance.
Tom explains that for any aspect of our plans that involves committing 10 percent of the budget, we will certainly be undertaking "a fiscal year". This may include requesting a letter from the accountant of the company concerned ensuring that his client is in good financial health, and will be for the next year.
Uncertainty and ever-changing social restrictions are just a few of the issues facing engaged couples. However, as Johnny reminded me, "Your wedding is meant to be fun, and planning your wedding is meant to be fun. It's not meant to be a roller coaster of anxiety. And so, with six months to go, Willy and I cautiously, but hopefully, continue our plans for the great white winter wedding, and have as much fun as possible in the process.
Subscribe now for a 3-issue trial offer for £ 1 plus free digital editions and home delivery.
More from Tatler
Source link