For much of the 21st century, electronic music pioneers Kraftwerk have been polishing their influential back catalog, re-releasing tracks and reproducing their hits and fan favorites on occasional tours, with respect to the plans. But the catch is that Ralf Hütter, the only surviving original member of Kraftwerk, only acknowledges Kraftwerk production from 1974. highway ahead. Therefore, it sadly ignores some of their most interesting work, from the 1970s Tone float (as an organization) until 1973 Ralph and Florian. (I address this infuriating topic here and here.) While it would be difficult to perform the flute "Ruckzuck" from Kraftwerk's debut album, especially without the late Florian Schneider-Esleben, the songs of Ralph and Florian could certainly fit into current Kraftwerk schemes. But they remembered this classic, and that's it. Might as well try to ride a bike in the ocean than hear something from those early years.
So off we go for this latest 3D tour (perhaps the band's last), which drew loyal veterans and pre-teen neophytes and plenty of geeks in between to Paramount on Saturday night. These aging German technicians turned into a science, and ergonomically the show ran smoothly and efficiently for 125 minutes. I didn't expect any surprises because I saw Kraftwerk in 2004 at Paramount and in 2008 at Coachella. The setlist for all of these gigs has been largely the same, as has the charismaless stage presence and bank teller setup. But in 2022 Düsseldorf Übermensch Hütter shocked this long-time follower… by scratching his temple once during "Airwaves" and moving his right leg to the beat of "Boing Boom Tschak." Ah! Broken! Kraftwerk is human after all! What a pity!
Realizing that they're about as fun to watch as accountants filing taxes, Kraftwerk – dressed in their dazzling overalls and standing as still as possible behind their desks – let the visuals do the heavy lifting of entertainment. And if they were often spectacular, they were also striking, especially during "The Model" and "Tour de France". The 3D glasses that everyone has received did Slightly improving said visuals, especially during "Space Lab", but there weren't really stunning effects, unless I had a faulty pair of specs.
Now Kraftwerk had done a herculean amount of innovation in the 70s and 80s with the bizarre experimental rock of Kraftwerk and Kraftwork 2proto-synth-pop records Ralph and Florian, highwayand Radioactivitythe proto-techno opuses Trans Europe Express and The man-machineand electro plans computer world and "Tour de France".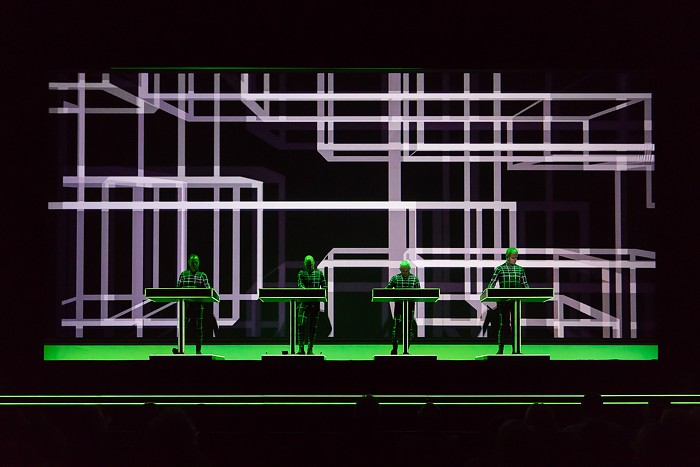 Without a doubt, Kraftwerk earned the right to ride in the peloton so late in the race. But here's the problem: even if you know exactly where these cherished foundational tracks go – you probably now have their majestic melodies and precision rhythms etched indelibly into your DNA – they refuse to sound outdated. The droids built these trails to last and to be studied in universities for as long as civilization lasts.
Kraftwerk wisely started the show off with "Numbers", the funkiest cut the Europeans have ever created, its rigidity and spaciousness defying logic and gravity. The first wave of Detroit techno producers and the dancers of the Motor City version train of souls, The scene, will testify to this. Then, as the celestial melody of "Computer World" hovered above those cut, percolating beats, one couldn't help but wonder: WHY DID THE PARAMOUNT DO THIS SEATED SHOW? ! Sure, the crowd was gray and pot-bellied, but still… Kraftwerk's music is about movement, literally and figuratively, for Florian's sake. Do the words "Autobahn" and "Trans-Europe Express" mean nothing to the powers that be?
Anyway, as we audience members fidgeted in our seats, we could laser focus on how Kraftwerk and whoever was working on the console dialed in the sound with pristine clarity, with volume just right. The rhythms in "It's More Fun to Compute" ker chinged like antique cash registers; the bass of "The Man-Machine" made the breastbones vibrate; the beeps in "Pocket Calculator" were practically visible… Every detail was magnified and crystallized. We got what we paid for in this department.
Compared to the other times I had seen Kraftwerk, this set had more deviations from their canonical texts. Sure, Ralf and company are far from freewheeling improvisers, but they tweaked some tracks enough to make it clear to longtime fans that they weren't just faxing this performance. "Airwaves" sounded more disco than its original incarnation, with the angelic melody proving less celestial. The synth pop "Stairway to Heaven", "Autobahn" was truncated out of necessity and Ralf's vocals sounded eerily Auto-Tuned. "Computer Love" sounded more hypnotic and flexed a weird and wonderful percussive break not heard in the original.
For "Radio-Activity," which might be Kraftwerk's brightest fusion of beauty and sinister, Hütter added names of places that had suffered the ill effects of radiation since the song's 1975 debut." Pocket Calculator boasted an impressive synthesizer improvisation, and Ralf sang in his most playful voice. The "Non Stop"/"Boing Boom Tschak"/"Music Non Stop" medley sounded slower and funkier than on the recording. After doing "The Robots," Kraftwerk left the stage and their robot counterparts appeared, dancing with creaky joints and electrified chills. A woman screamed libidinously at this display, which made for the funniest moment of the evening.
As I walked out of the venue and into the beautiful summer night with this memory ringing, I couldn't help but imagine how many groupies Hütter and fellow sex machines Fritz Hilpert, Henning Schmitz and Falk Grieffenhagen would attract by the following.
See the setlist here.